Soon, singing and shouting in concerts will be like tapping on Facebook's Like button...

Published September 16, 2020, 12:00 am CDT
There are endless bouts of COVID-19, so as a precaution, we prefer to go out only for essential activities. Since concerts are not an essential activity and we live in a highly urbanized city, it's also not an option to go to concerts in your car (in case you didn't know, we're starting to see these types of concerts more often!).
If we miss concerts too much and still want to support our favorite bands by something more than just streaming or buying their records (does this even still exist?), what should we do?
Enter online concerts.
---
The process is simple: the band sends a link, and when you click on it, a page for online payment appears. You pay and receive a code. That code is used to enter the online concert at the announced time. On the other side of the internet, the band is in a room with a few cameras around, and they start playing as if they were in a concert: speaking to the public via the cameras, making jokes, giving their personal messages, and making eye (video) contact.
I tried this in April with an indie rock band. I really like their music, their personalities, and they're not afraid of new experiences. I bought my ticket; since there was a dry law (sale of beers prohibited in my neighborhood), I served myself cookies and chocolate milk. Yes, I know...
Well, it was an incredible experience, a unique one in my life. A moving experience.
The music lived up to what I expected, but that wasn't the shocking thing.
The shocking thing for me was that during the entire concert, I couldn't stop wondering if I was attending the first concert of the "new normal", or the last concert before the end of the world.
It was a surreal concert, like a concert taken from the most horrible cyberpunk movies. The audience is you, extremely alone, even if you're not (even more so if you are), in front of your television, trying to pretend you're happy, in front of the band playing who's completely disconnected from their audience's reaction.
The band finished playing a song, and instead of listening to the applause and the screams of love, there was an endless and resounding silence where the musicians just looked at each other. Wondering with their eyes if they played well, if the public will have liked it, if they can already smile, or if they have to cry. Above all, a silence with which they try to motivate themselves to play the next song.
Weeks after this experience, I read an interview by Jordi Puig, director of Vive Latino - a famous Mexican concert – saying, "I think we should explore streaming, everything digital is good, valid, and we should consider it as an option. We're committed to the audience to stay alive in some way. But in the end, it's not the same. It's difficult to recreate this magic we're involved in, which is created in front of thousands of people, that cannot be reproduced on video. "
And yes, clearly it is not the same
---
But, what if one day there is no other option? What if one day social distancing is mandatory and lasting?
Or, to look at it optimistically, how about we invent a way to do online concerts just as good as real concerts, where we could attend the long-awaited concert of our favorite group, even if it takes place on the other side of the world?
Online concerts also exist within video games. For example, Fortnite, a popular war video game, has a "Battle Royale" category where the goal is to kill everyone and be the last survivor. Fortnite has such a large audience that the game's creators took the opportunity to do concerts inside with famous artists. You can also order pizza from inside the game and open email, Google, and Zoom so you can do schoolwork directly from the game.
In these Fortnite concerts, you see characters (the audience) jumping around the stage and doing the three movements that the game allows: move your head like a metalhead, raise a burning microphone, or raise your finger in admiration. The artist's music begins, along with their avatar (a video game character's likeness), making a few pre-recorded movements.
In a short time, the virtual environment becomes quite magical, with the special effects like Roger Waters' best concerts, if not more. Well, this was Travis Scott, which surely cost a ton.

If we see Diplo and Major Lazer's concert it would rather be a bit more as if YouTube had been inserted into the game, and the Marshmello concert would be like an intermediate version of special effects.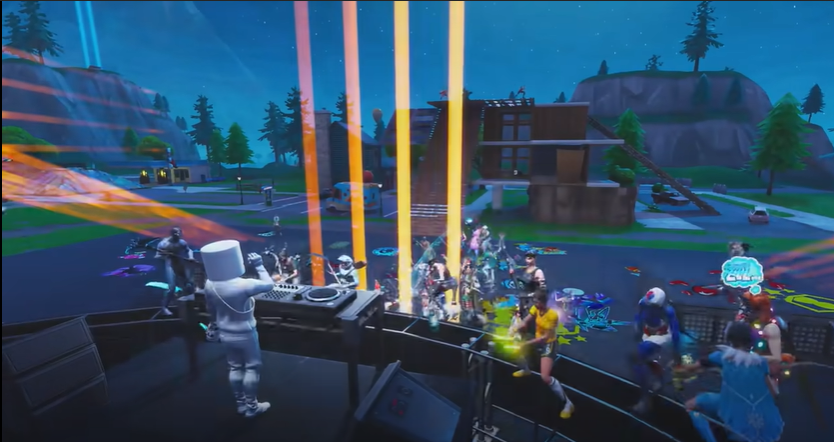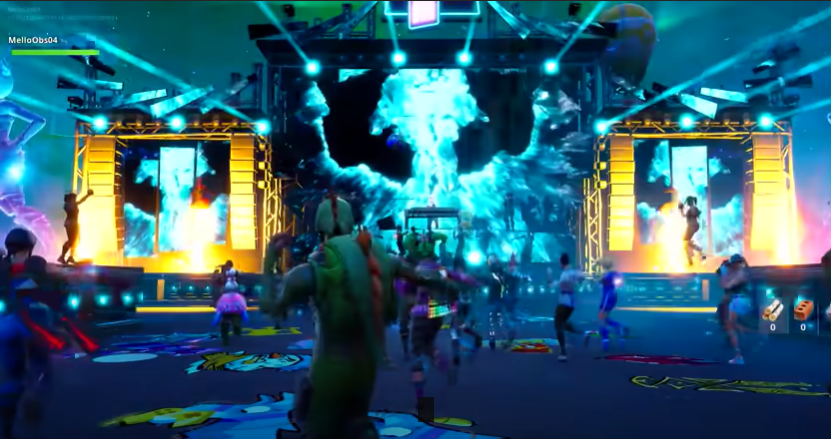 Travis Scott's concert was magical. Yet the magic of attending a live concert wasn't there either.
Perhaps we aren't so far off from attending an online concert that has the same joie de vivre as a live concert. Maybe we'll be able to achieve something as exciting as the real deal, or maybe not. Since we're still locked up ad vitam aeternam, let's try a quick draft of what concert magic does, and classify those characteristics between what could be done and what is done.
| It exists | It's doable | It's not doable yet |
| --- | --- | --- |
| Live concert online | A very good sound | Physical contact with other people |
| Be with your friends | A 360 degree environment (VR) | The smell of the public |
| Being with your boyfriend / girlfriend | Feeling the vibration of sound in the body | |
| Have your drink | Listen to the public in real time | |
| Stand up and dance | See the public in real time | |
| | The band also sees and listens to the public | |
| | The feeling of being in a unique place | |
| | Commuting hours to get there | |
| | Endless hours of waiting to generate emotion and anxiety | |
| | Some strangers in front of you and taller than you, preventing you from seeing well | |
Looking at it this way, it seems like we're not so far from being able to simulate real concerts from home, at least theoretically. Obviously, there's still the question of the equipment (welcome Ready Player One) and a fast internet connection. We'd also have to accept being filmed in order to be part of the public in a concert (because yes, we would be "part of the public").
Sure, we're not going to want this and we'll want to return to our beloved concerts. Though, maybe I would like to see some bands this way…
What do you think? Would you like to see your favorite band virtually? What more features do you think are missing from the list of what concert magic does?
We appreciate your comments!
---
If you enjoyed the article, you'll love these games:
Similar stories